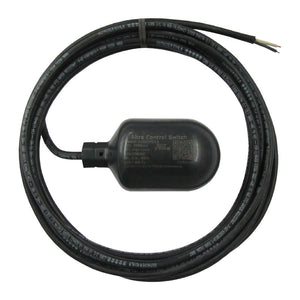 Alderon Float Switches
The Altra™ Control Switch is used for the activation of alarms and controls in many different harsh environments with temperatures up to 140° F.

These float switches can be used for a variety of applications such as; septic tanks, sump pits, holding tanks, pump chambers, water tanks, and industrial processes.

Available only in 120/240VAC bare lead models.

The control switch is mechanically operated using a micro switch and is activated by the ball inside the float housing. Available models include: A5 Series for standard applications or A5G Series with gold plated contacts for milliamp, PLC, or intrinsically rated applications with narrow, medium, and wide angle switching differentials.

For use as high level (normally open/empty tank) or low level (normally closed/fill tank) configuration with multiple types of float attachments for mounting and various cable lengths. NOTE: Check to make sure the correct control switch is being used for the application: Normally Open - Contacts are open while hanging down and will close on a rising liquid level. Typically used for high level alarms and empty tank applications. Normally Closed - Contacts are closed while hanging down and will open on a rising liquid level. Typically used for low level alarms and fill tank applications.