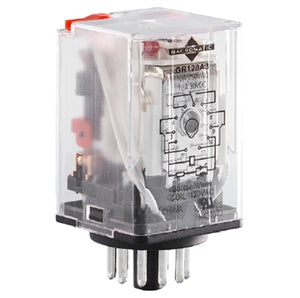 Model GR024D3
GR Series:
"Ice Cube" style with octal (round) terminals
Economical, compact design
Sockets for DIN-rail or screw mounting
Two Form C or Three Form C contacts rated 10 Amp
 Compact, side-by-side mounting simplifies installation and wiring for reduced costs.
COMPACT DESIGN PROVIDES ECONOMICAL AND RELIABLE OPERATION
Small profile General Purpose Relays make the best use of panel space in applications with space restrictions. The relays are economical for reduced system cost, while providing durable and reliable operation. Three configurations offer mounting versatility. Slim GS Series relays, installed in sockets for DIN-rail mounting, are only 0.25 in (6 mm) wide. GB Series (blade terminals) and GR series (octal terminals) installed on sockets can be DIN-Rail or screw mounted.
EASY INSTALLATION, TESTING AND TROUBLESHOOTING
Side-by-side DIN-rail mounting simplifies installation and wiring. GB Series and GR Series are color coded for easy testing and troubleshooting of control logic circuits. AC voltage units have orange "Push-to-Test" buttons. DC voltage units have blue "Push to Test" buttons. The buttons can be pushed for a momentary test. Or, they can be locked in place with a simple 90-degree rotation. All relays have an LED light for visual confirmation that the relay is energized. AC is red and DC is green.